About "The Arthropoda Varia Collection at the Zoologische Staatssammlung München"
The Collection
The "Arthropoda Varia" collection of the Bavarian State Collection of Zoology houses the wet and dry material of Arachnida, Crustacea and Myriapoda including tissue collections, microscopical slides and REM stubs. The collection comprises more than 70,000 collection entities, including those collected by famous scientists such as Karl-Wilhelm Verhoeff (millipedes, woodlice), of Hermann Graf Vitzthum, Ludwig Kneißl, Carl L. A. Willmann, Werner Hirschmann (all four Acari), Franz Doflein (Decapoda) and Heinrich Balss (Crustacea) in the 19th and 20th century. Recent material is accessed as part of ZSM research projects in Bavaria, the Mediterranean areas, Peru (Panguana Scientific Field Station) and from oceanographic expeditions, especially to the Antarctic region and the fjord region of Chile (Huinay Scientific Field Station).
Data Project and Service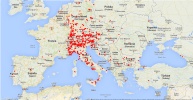 The data collection "The Arthropoda Varia Collection at the Zoologische Staatssammlung München" includes at present more than 14,000 records mainly on centipedes (Chilopoda), millipedes (Diplopoda) and Arachnida being part of the activities of the GBIF node Invertebrates II. Taxonomy follows several central European checklists, which are often based on worldwide catalogs, e.g. The World Spider Catalog.
Many of the object metadata are linked to multimedia data. The high resolution images of collection storage entities, single animals and microscopical slide preparations, eg. of the gonopods of Diplopoda are done with three digitalization stations described as part of the German GBIF Initiative under Digitalisation at the SNSB. The data collection is originally managed in the Specify 6 software as well as separate excel files and is made available through the Diversity Workbench platform. Data mobilisation and digitalization efforts are mainly done by Stefan Friedrich (collection manager) and Ulla Biener, Hannes Geiselbrecht, Roland Meyer, Sebastian Swoboda (all four temporary staff) under supervision of Dr. Jörg Spelda.
The data are maintained and expanded by Prof. Dr. Roland Melzer (curator), Stefan Friedrich (collection manager) and Dr. Jörg Spelda. Notices of errors of any kind are much appreciated by the editorial staff. Technical support is provided by the IT Center of the Staatliche Naturwissenschaftliche Sammlungen Bayerns with the German GBIF Node for Invertebrates II.
The Database "The Arthropoda Varia Collection at the Zoologische Staatssammlung München" and – if not stated otherwise – its supporting files have been copyrighted © 2013–2022 by the Zoologische Staatssammlung München.
Permission is given for free use of data in the search result for non-commercial purposes; any commercial use must be granted by prior written agreement.